Hall Of Fame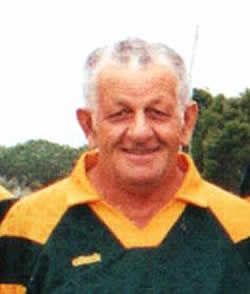 Trevor Klump
AWARDED MEMBERSHIP: YEAR 1993
As an administrator Trevor has held many positions in hockey in the Manning including President of M.V.M.H.A Inc., (1991 to 1994, 1998 and 1999). He was a member of Second Synthetic Hockey Field Development Committee and the Manning Valley delegate at NSW Hockey Association Annual Meetings.
Trevor was a M.V.H.A Selector 1985 - 1991. He was on the Senior Match Committee Womens Division in 1988, 1989, 1990, 1992 and 1993. Trevor coached the Under 18 Womens Association Representative Team in 1987. He was the Junior Registrar and member of Junior Match Committee, a Selector and Coach of the Under 21 Womens Association Team.
Trevor also coached Veterans Representative Teams 1987 and 1988. He was Turf Director M.V.H.A.Inc. in 1988 and M.V.H.A.Inc. Association Veterans Womens Coach in 1991, 1992 and 1993. In 1993 Trevor was a Director on the Board of Management of M.V.H.A. Inc.
He has coached at club level including Wingham Times / Saxbys Hockey Clubs. Trevor played in local competition and veterans Competition and represented the association at various NSW Veterans Championships.