Hall Of Fame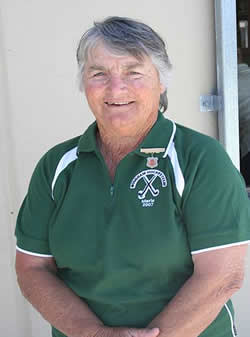 Marie Grofos
AWARDED MEMBERSHIP: YEAR 1996
Marie began playing hockey at 13 years of age at Cootamundra. Her family moved to Goulburn when she was 14 years of age and she won a State Sports Blue for hockey whilst playing hockey for Goulburn High School.
Marie moved to Taree, joined Manning Valley Womens Hockey Association in 1960 and held the following positions; President, Vice President, Publicity Officer producing a newsletter, Association Representative.
She was President of the Zone 2 for 8 years and a delegate for 15 years. Marie was AH Captain/Coach, Selector, Member Match Committee, Umpires Convener and Field Supervisor.
In 1966 was a foundation member of the M.V.J.G.H.A holding many administrative positions until it amalgamated with the M.V.W.H.A. Marie achieved a NSW State A Umpires Badge and umpired at NSW State Championships for 25 years. She was actively involved in training and testing them for an Association Umpires Badge.
Marie formed the Wingham Junior Hockey Club in 1966 and continued to be involved with the club until 1998. She played with the club for 42 years and was awarded Life Member of the Club in 1982. In the year 2000 the Australian Government awarded Marie the Australian Sports Medal 'for services to Hockey'.